Liquid Shield patented nanotechnology based on the glass surface of various electronic products with the following protection:

- Biocontrol agents: kill bacteria up to 99.9%
- Hydrophobic: to prevent moisture or water surface
- Dust-proof: from dirty greasy finger protector
- Scratch resistant: to protect equipment from wear things such as keys or other sharp objects
- Anti-static properties: in order to prevent the accumulation of dust and dirt from the surface
- Upgrade sensitivity: Restore screen sensitivity
- High Definition: Improve the clarity and brightness of the screen colors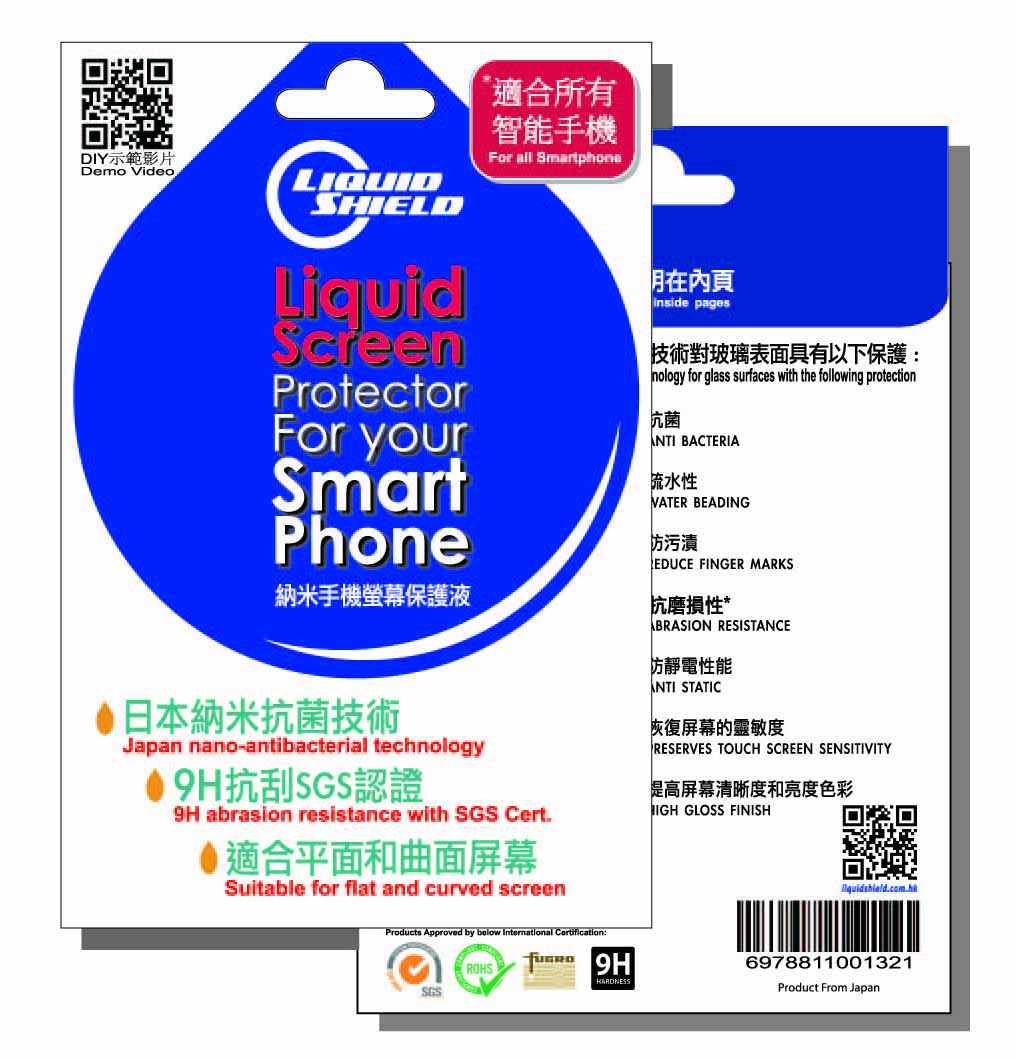 Liquid Shield Smartphone Screen Protector is enough to cover 7 square inches (Suitable for all Mobile Models with Curved or Flat screen)
A Liquid Shield Smartphone Screen Protector Set is adequate coverage of 7-inch, existing mainstream flagship smartphone 5-2.7 inches screen, FULL coverage for all Curved and Flat screen!
Quick and easy to use
Simple and fast to use, just a few steps. Enjoy sustained long-term protection.
Waterproof Technology
Water molecules is larger than the liquid glass coating matrix and makes the water can not penetrate, since the coating is particularly smooth, water does not easily adhere to the surface.
Reduce fingerprints and smudges
Protection and reduce visible on the screen fingerprints and smudges, ultra-smooth surface makes it very easy to clean.
Anti-wear protection
Crystallization of 9H high surface abrasion resistance, can be used to protect normal wear and tear.
All of the glass will be scratched, even very high-end sapphire crystal watches, will also be scratched.
The real danger is that dust and fine sand, it can contain quartz (hardness of 6H, 7H. Probably harder than your mirror), exists between your fingers and the mirror. This is the most of source of the scratches.
Retention touch sensitivity
Coating the surface of the quantum nano-device combination and keep the same screen touch sensitivity.
High-gloss surface
Enhanced clarity and color vividness, improve visibility and reduce glare, let you can have more clearly show the device.
100% Bubble-Free
Perfect application without any air bubbles, dust, glue stains, and no position asymmetries occur on your device screen.
SIO2
Liquid Shield Smartphone Screen Protector nanocrystalline coating solution is a special technology called "silica thin layering", commonly known as liquid glass.
It is non-toxic, and to protect the surface of the device from water, dust, heat, ultraviolet radiation hazards scratches and abrasions.
Extracted from an almost pure silica and quartz sand, Liquid Shield Smartphone Screen Protector without glue or adhesive. Quantum makes use of nano-coating bonded to the surface with the device,
Each molecule is finer than human hair 500 times, covering the surface of the device and protect it from bacterial, anti-wear, dirt, grease injury.
Once the new coating surface bacteria, dirt and grease will be eliminated. So streamline clean surface requires only a simple wiping action.